New Haymarket Plaza to be celebrated in Kalamazoo
September 14, 2021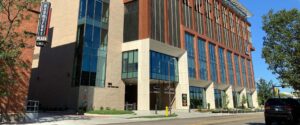 KALAMAZOO, Mich. — After completing its most recent construction project in downtown Kalamazoo, Catalyst Development is expected to celebrate its official opening of Haymarket Plaza on Thursday.
Catalyst Development completed a mixed-use building consisting of The Warner, its commercial space, and 180 E. Water St., the residential space.
"We were thrilled to welcome commercial and residential tenants to this new space over the last two months," said Patti Owens, Catalyst Development's vice president and managing director. "We designed this project to emphasize community and create a neighborhood feeling amongst those who live, work, and visit. Watching those interactions come to fruition, especially after the setbacks and isolation during the height of the pandemic, has been extremely gratifying."
The Warner Building and 180 E. Water St. join Treystar's Main Street East and Haymarket buildings to form the Haymarket Plaza, named after the historic Haymarket District.
Catalyst Development is anticipated to celebrate the Haymarket Plaza's official opening from 6 p.m. to 9 p.m. with project partners, Treystar, members of the city of Kalamazoo government and Southwest Michigan First.
The celebration is scheduled to have an opening and dedication event which is free and open to the public.
Festivities scheduled include:
A presentation by Michigan House called "Placemaking to Build Community" hosted by former Kalamazoo Mayor Bobby Hopewell
A dedication ceremony
Performances by Yolonda Lavender and Pink Sky
Small demonstration of the plaza's 3D projection mapping technology
A special announcement about future use and programming for Haymarket Plaza
Haymarket Plaza was designed by Tower Pinkster Architects and Kingscott Associates.
They included a snow-melt system, Landscape Forms furniture, an open area for entertainment and outdoor seating for food and drinks.
They also installed four projection-mapping projectors to display art, announcements and entertainment.
The Warner building is home to recognizable businesses and nonprofits such as Warner Norcross+ Judd LLP, Southwest Michigan First, Stryker Johnston Foundation, Communities in Schools of Kalamazoo and The Kalamazoo Promise.
Catalyst Development intentionally used the project's mix of businesses and nonprofits to complement its residential offerings.
The plaza was designed to offer a gathering place for downtown residents, whose work in the area and those visiting.
"People from all walks of life and all backgrounds, both young and old, gather here," Owens said. "This is exactly the diverse yet inclusive neighborhood we set out to create."
Read the full story at wwmt.com.
Posted in Media Coverage