Haymarket Plaza is set to be downtown Kalamazoo's newest gathering place
September 16, 2021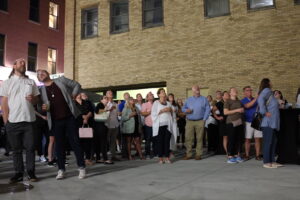 Editor's note: This story is part of Southwest Michigan Second Wave's On the Ground Kalamazoo series.
Placemaking is creating public spaces where people want to live, work, and play.
It's the name given to the idea of having areas for community involvement, community events, and quality gathering places in general.
Working with the City of Kalamazoo and others, Kalamazoo-based Catalyst Development Co. is trying to create more of that space.
On Thursday evening (Sept. 16, 2021) the privately-held real estate development and property management firm dedicated the Haymarket Plaza, a 7,000-square-foot area to accommodate people (ostensibly downtown residents, workers, and visitors) in the area of the Main Street East Building, The Haymarket Building, and the Warner Building, Catalyst's huge new commercial and residential project at 180 E. Water St.
The buildings are situated along the north side of East Michigan Avenue and south of Water Street, between Portage and Edwards streets.
Located in the historic Haymarket District, the plaza includes the through-way to East Michigan Avenue that was formerly called Whiskey Alley. The plaza is an open area designed to accommodate entertainment, food trucks, and outdoor seating for food and beverages. It features decorative concrete, lighting, outdoor furnishings by Landscape Forms, and a snow-melt system.
Four projection-mapping projectors are also there to provide evening displays of art, announcements, and entertainment on the northeast side of the Haymarket Building.
"Our sense of community and engagement extends beyond the building's walls," Patti Owens said in a prepared statement, referring to the Warner Building. Catalyst Development's vice president and managing director says the creation of the plaza is a great example of the organization's sense of community and engagement, connecting the Warner project with its downtown neighbors and inviting public interaction and enjoyment.
Partners in the development of the plaza include Kalamazoo-based real estate development firm Treystar, the City of Kalamazoo, and regional economic development organization Southwest Michigan First. The plaza was designed by TowerPinkster Architects working with Kingscott Associates.
Thursday festivities drew about 200 between people and included "Placemaking to Build Community," a presentation by the Michigan House of Representatives, hosted by former Kalamazoo Mayor Bobby Hopewell, as well as musical performances by Yolonda Lavender and Pink Sky. A small demonstration of the plaza's 3D projection mapping technology was scheduled, and there was also an announcement about future use and programming for the plaza.
The Arts Council of Greater Kalamazoo announced it will partner with Treystar Development to oversee arts and cultural programming for the new Haymarket Plaza.
Treystar manages the Haymarket, Monroe, and Main Street East buildings on East Michigan Avenue.
"The Arts Council of Greater Kalamazoo looks to support and offer arts and cultural experiences in all shapes, styles, and forms to inspire the community we serve," said Kristen Chesak, executive director of the Arts Council. "We see this new venue in downtown Kalamazoo as an excellent opportunity for businesses and artists to comingle, for audiences to interact, and for emerging artists to be recognized.
She says Haymarket Plaza provides an additional venue for future events – including live music theatre, a featured film series, and cultural activities — and it will be another stop on Kalamazoo's downtown Art Hop.
She thanked Treystar, the Monroe-Brown Family, and the Haymarket Plaza Advisory Committee "for creating the opportunity for artists and arts organizations to have a space for creative expression for our community to enjoy. The Board of Directors saw this as a space for the activation of art and are fully supportive of any initiative that provides the ability for the community to intersect with all the arts and culture Kalamazoo has to offer."
Haymarket Plaza was dedicated Thursday to Tom and Gail Kasdorf, who devoted their lives to the Kalamazoo arts community.
The Arts Council's first use of the Haymarket Plaza will be next month's Art Hop on Friday, Oct. 1, beginning at 5 p.m. Nine artists will be featured in the plaza as well as local musician Carrie McFerrin.
More information about the Arts Council of Greater Kalamazoo and its plans for Haymarket Plaza is available by contacting Chesak at 269-342-5059.
Thursday's dedication also was a celebration of the completion of the Warner Building, which is named for its anchor tenant, the Warner, Norcross + Judd law firm.
"We were thrilled to welcome commercial and residential tenants to this new space over the last two months," Owens says. "We designed this project to emphasize community and create a neighborhood feeling amongst those who live, work, and visit. Watching those interactions come to fruition, especially after the setbacks and isolation during the height of the pandemic, has been extremely gratifying."
Construction of the $70 million Warner Building started in February of 2018 and tenants began moving into the building in July. Marketed to residential housing seekers as "luxury urban living," the facility has 45 modern apartments, including 20 efficiency units, 21 one- and two-bedroom units, and four apartments described as premium units. The efficiencies, which range from 400 to 700 square feet, are intended to be leased as affordable workforce housing. Amenities include a fitness studio, a rooftop terrace, and reserved parking inside the building.
According to information provided by Catalyst, its commercial tenants are intended to be a mix of business and nonprofit organizations "all with a high level of community involvement, to complement its residential offerings." Thus far, they include Southwest Michigan First, the Stryker Johnston Foundation, The Kalamazoo Promise, Communities in Schools of Kalamazoo, and the Warner law firm.
"People from all walks of life and all backgrounds, both young and old, gather here," Owens says. "This is exactly the diverse yet inclusive neighborhood we set out to create."
Read the whole story at secondwavemedia.com.
Posted in Media Coverage