Catalyst Development unveils Warner Building in Downtown Kalamazoo
June 15, 2021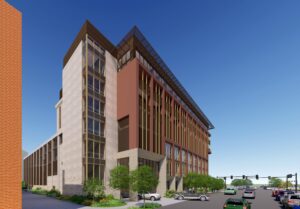 KALAMAZOO, MI (WKZO AM/FM) – Tuesday, Kalamazoo-based Catalyst Development unveiled its latest project in the city, the Warner Building.
Officials with the company said the he mixed-use building will house the following entities:
Warner Norcross + Judd LLP,
Southwest Michigan First,
Stryker Johnston Foundation,
Communities In Schools of Kalamazoo, and
The Kalamazoo Promise.
The property will also offer 45 living options with the apartments of 180 E. Water Street, the residential portion of the building.
Floor plan options include 20 efficiency apartments, as well as 21 one- and two-bedroom units and four premium apartments. 180 E. Water Street also offers ADA accessible units.
"The mix of businesses and nonprofits, all with a high-level of community involvement, couldn't be a more perfect fit for this property," Catalyst Development's Vice President and Managing Director Patti Owens said in a statement. "This combination of residential living and our commercial organizations will bring together people from all walks of life, all backgrounds, young and old, reflecting the diversity, inclusivity, and charm that is Kalamazoo."
As one of the anchor tenants, Southwest Michigan First officials also released a statement.
"The Southwest Michigan First team is looking forward to mixing with tenants and residents in the elevators and on the stairs," President and Interim CEO of Southwest Michigan First Carla Sones said. "There is so much potential for accelerating the community strategically through conversations that will naturally happen during the day as we cross paths more frequently due to our proximity to each other.
As an organization focused on leveraging and promoting community and business partnerships, we will be able to use our new location to create a welcoming space for leaders throughout our region to come together and interact in pursuit of our mission of 'the greatest force for change is a job'."
While all the commercial spaces of The Warner Building are filled, Catalyst Development is currently accepting applications and providing tours of the apartments of 180 E. Water Street.
Residents will start moving in this July.
To learn more about the residential opportunities of 180 E. Water Street, schedule a tour, or fill out an application, residents can visit 180ewaterstreet.com or call 269-492-6810.
Read the full story on WKZO's website.
Posted in Media Coverage