Catalyst Development ready to open mixed-use Warner Building in Kalamazoo
June 17, 2021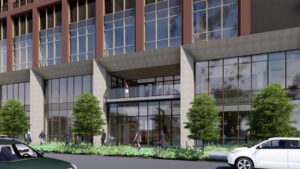 Catalyst Development will soon open the doors of its latest downtown Kalamazoo, Michigan, development, The Warner Building. The mixed-use building will be home to some of the area's most notable businesses and nonprofits including Warner Norcross + Judd LLP, Southwest Michigan First, Stryker Johnston Foundation, Communities In Schools of Kalamazoo and The Kalamazoo Promise.
In addition to the list of commercial residents, the centrally located property will also offer 45 high-quality living options with the apartments of 180 E. Water Street, the residential portion of the building. Floor plan options include 20 efficiency apartments as well as 21 one- and two-bedroom units, and four premium apartments. 180 E. Water Street also offers ADA accessible units and an impressive list of amenities.
"The mix of businesses and nonprofits, all with a high-level of community involvement, couldn't be a more perfect fit for this property," said Patti Owens, Catalyst Development's Vice President and Managing Director. "This combination of residential living and our commercial organizations will bring together people from all walks of life, all backgrounds, young and old, reflecting the diversity, inclusivity, and charm that is Kalamazoo."
Catalyst Development set out to create a welcoming neighborhood with its new property in downtown Kalamazoo unlike any others.
Each aspect of the property was planned with comfort and longevity at its core. In addition to its ideal location, The Warner Building offers plenty of parking, state-of-the-art surveillance, soundproofing throughout the building, along with an abundance of placemaking areas available. Residents, employees, and guests can enjoy endless views of Kalamazoo and beyond from the various indoor and outdoor gathering spaces.
Von Washington, Executive Director of The Kalamazoo Promise, also shared his excitement for making the move to The Warner Building and all it will allow for the organization.
"The central location of the building provides a space for current and future Promise Scholars to engage in educational activities downtown. Currently there is very little attraction for them to interact with businesses and other aspects of the city center," Washington said. "We hope our new space will be a bridge to bring youth and college students to the area and connect them with employers and other helpful services.
While all the commercial spaces of The Warner Building are filled, Catalyst Development is currently accepting applications and providing tours of the apartments of 180 E. Water Street. Residents will begin to take residency in July.
Read the full story on REJournals.com.
Posted in Media Coverage